We all want to share our photographs on social media platforms.
And without any doubt, the biggest social media platform is got to be Facebook. Even though Facebook allows users to upload an unlimited number of photos and videos to their accounts, it prevents any photos and videos from to be posted directly from OneDrive onto Facebook, unless in the form of a link.
This all started when Facebook made an update to its graph API rendering the connect feature useless. This means that users can no longer upload pictures directly to Facebook from OneDrive.
Unfortunately, this means users will have to download any images from OneDrive onto their computer and only then they can proceed to upload them to Facebook. It is understandably a disappointment of sorts, but surely it isn't anything compared to the fun you can have by uploading those images on Facebook. And not to forget the social branding these images do for you. So ignoring this task is simply not on. Let's shift our focus on how to get this job done without any fuss.
Easily get rid of OneDrive Duplicate Photos

PictureEcho is distributed with verifiable digital signatures
Download all the images to your computer from OneDrive. They will actually be downloaded in a compressed file from where you can easily extract them to a location of your choice. Now before you proceed to upload them to Facebook, why not just scan them to see if they contain any duplicates in their ranks. This helps avoid any unnecessary clutter as well as burdening your Internet connection unnecessarily.
We will use PictureEcho, a duplicate image scanning software for this purpose. It can be downloaded for free and is extremely handy, as you will see for yourself, in sifting through your image collection and coming up with duplicate photos swiftly.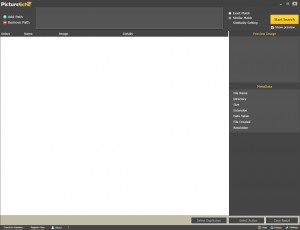 Download PictureEcho and install it.
Enter the path of images which you had extracted from the OneDrive compressed download file, via the Add Path button. You can add up as many paths as you want.
Now click the Similarity Setting button and select Level 4. Click OK to apply this change. This setting is particularly suited for weeding out duplicate photos.
Click Start Search to initiate the scan. The scan might take a while to conclude, depending on the processor specs as well as the number of images to be scanned.
Once the scan is over, any duplicate images detected during the scan will be listed out in the results.
Click the Select Duplicates button to apply a filter of your choice on the images, for further action.

Finally, you have to decide between permanently deleting the images or moving them to a folder from the Select Action button.

In the former case, you will receive a warning message about the complete removal of the images, whereas in the latter case, you will have to select the folder to which you wish to move the images.
PictureEcho will then come alive to perform the required action and perform it swiftly.
If you're looking to remove duplicate files only from OneDrive, choose the Clone Files Checker software. It has a special feature to scan OneDrive completely online.
Uploading the Images to Facebook from your Computer
Now that the images have been purged of all duplicates, we can revert to our main task of uploading them to Facebook.
Open your Facebook account and click Photo/Video Album tab in the status box.
Navigate to the folder that contains the images and select all images you want to upload.
Click Open and now Facebook will now upload the images briskly.
Simply fill up the associated info such as Album Name, Description and Location etc for the album. Choose your privacy settings and click the blue Post button on the bottom-right once you're done.